al-Fatāwā al-Azhariyyah fī Fiqh al-Aʾimmah al-Ḥanafiyyah
Posted by

Date

February 23, 2020

Comments

0 comment
by Mln. Ibrahim Hamid (Takmīl Graduate, 2019)
The Project
This compilation, al-Fatāwā al-Azhariyyah, was not initially written in book form. Rather, as its compiler recounts, it is a series of questions that were posed to Shaykh Ibrāhīm b. Sulaymān al-Azharī. He would answer these questions, which were then jotted down. His student, ʿUthmān b. ʿAbd Allāh al-Qalaʿī, sought permission to compile these answers. Then, after receiving permission, he gathered the scattered notes and organized them into cohesive chapters. Thereby, this compilation, now known as al-Fatāwā al-Azhariyyah, became a reference for students of knowledge.
Al-Fatāwā al-Azhariyyah, also known as al-Azhariyyah fī Fiqh al-Aʾimmah al-Ḥanafiyyah, is a short collection of fatāwā (ar. religious edicts) that are based on the Ḥanafī Madhhab. It includes many of the major discussions that are found in classic fiqh texts. It begins with purification and concludes with inheritance.
In total, 537 fatāwā have so far been tabulated in this collection. What makes this compilation particularly interesting is that after the shaykh gives his edict (ar. fatwā), a brief citation is provided as a reference to his source for that information. This work gives some insight into the process of iftāʾ that was used, at least in that context. Thus, reviewing it will be a great asset for scholars to hone their own research and verdict giving abilities and acumen.
So far, this project has achieved a transcription of the compilation from manuscript. Proceeding from here, I intend to use al-Fatāwā al-Azhariyyah for a case study on legal edicts in the Ḥanafī Madhhab. And in that, I intend to critically evaluate the material in the work and offer more evaluations on the manuscript used based on other sources, inshāʾAllāh. The completion of this initial transcription is a project milestone.
The Manuscript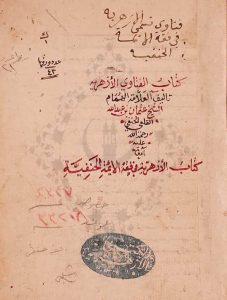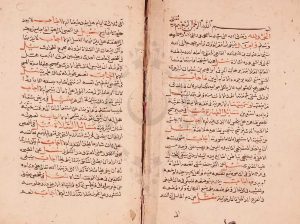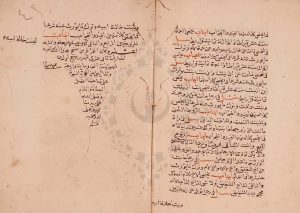 The Text of al-Fatāwā al-Azhariyyah