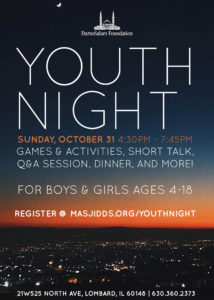 Alhamdulillah, we are excited to announce that we will be hosting a Youth Night for boys and girls ages 4-18 on Sunday, October 31, 2021! There will be many activities, dinner, refreshments, and more. We encourage all to spread the word of this event and allow the youth to spend their night in the House of Allah as an alternative to the activities that normally take place on this night.
The program will start with check-in at 4:30pm and will end after 'Isha Salah (7:30 pm) on Sunday, October 31, InshaAllah.
Registration is required. Use the appropriate link below to register now!
This program is free of charge for all attendees. Please consider donating to help cover expenses!