WINTER INTENSIVE: RECHARGING OUR FAITH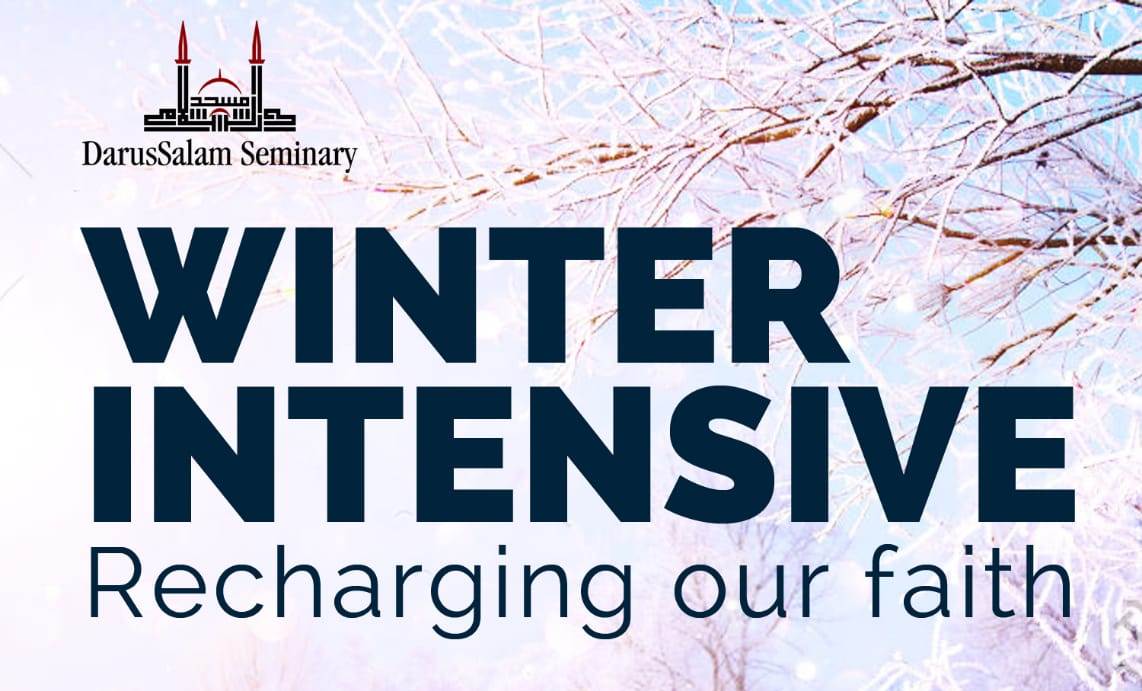 the many roles of Rasūlullah ﷺ
"A time will come when the one who is steadfast on his deen will be like a person holding a burning coal." (Tirmidhi)
SATURDAY
December
22
10:00 AM - 6:00 PM
SUNDAY
December
23
10:00 AM - 6:00 PM
MONDAY
December
24
10:00 AM - 6:00 PM
TUESDAY
December
25
10:00 AM - 6:00 PM
VENUE
Masjid DarusSalam
21W525 North Ave., Lombard, IL 60148
Everyday, Muslims in America are faced with new ideologies and views that cause them to question their core beliefs.
Why does evil exist? What does Islam say about evolution? How do I reconcile liberal, secular, and radical ideologies with Islam? Should I follow a School of Thought? How did the Schools of Thought form?
Unfortunately we do not possess the requisite knowledge to answer these questions, let alone inform others of what Islam says about these topics. This leads many Muslims to intentionally or unintentionally leave the fold of Islam or have the wrong set of beliefs.
DarusSalam's Winter Intensive provides an opportunity to withdraw from the clamor of our daily lives into an intensely engaging and intellectually stimulating environment of Islamic scholarship. Immersing in this world of traditional 'ilm, participants will engage in a deep, classical study of essential topics that will inshaAllah ground them in conviction, allowing them to confidently uphold their faith, unflinching in the face of other popular ideologies of the day.
This four-day course includes interactive classes with ample opportunity for questions and discussion. In addition to the conducive studying environment, over the four days you will enjoy good companionship and special sessions aimed at spiritual rectification. After a full day of studying, take a break and enjoy the beautiful City of Chicago, its attractions, and the great Halal Cuisine.
InshaAllah after attending this course, you will be confident in your religion, confident in your beliefs, be able to educate others on the topics covered, and be able to hold on to your faith and not be swayed by the popular ideologies of the day. Gain the tools to identify and protect your faith against the doubts of the Modern Era.
Unit 1 - Atheism and Modern Ideologies
Problem of Evil
Evolution
Rational Arguments for Belief in Allah (swt) and the Prophet (saw)
Refuting Post Modernism/Radical Left Ideologies in Islam
Refuting Radical Right Ideologies of ISIS and Takfiris
Unit 3 - Signs of the Day of Judgment
Minor Signs
Major Signs
Unit 2 - Lessons from Islamic History
The Fall of the Ottoman Khilafa and its Aftermath
Colonial Era in the Muslim World
Lessons from the Crusades
Rise and Fall of Muslim Spain
Unit 4 - Islamic Intellectual History
Evolution of Schools of Thought in Fiqh
Following a School of Thought
INSTRUCTORS
▽ Dr. Shadee Elmasry (NJ)
▽ Mawlana Usman Akhtar
▽ Shaykh Shibly Rahaman
▽ Mufti Minhajuddin Ahmed
▽ Mufti Azeemuddin Ahmed
Course Fee
Student: $100
Individual: $200
Couple: $350
Family: $500
Out of State Early Bird: $50
Accommodations 
Fairfield Inn & Suites by Marriott Chicago Lombard
645 W North Ave, Lombard, IL 60148
For brothers only
InshaAllah we will be having limited accommodations for brothers in the masjid for a nominal donation of $25.00/night to cover expenses of the Masjid. This will also include breakfast and dinner inshaAllah. To register for overnight stay, please click here.