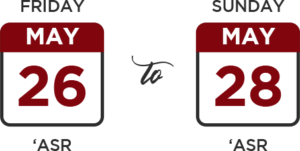 In the ever-evolving landscape of modern society, the lines between right and wrong are constantly being redrawn. As Muslims, it is essential for us to navigate these moral shifts with knowledge and understanding based on the Divine Revelation. In this year's retreat, we will explore various topics such as gender roles, sexual morality, recreational drug use, marriage, and social media and entertainment. Through insightful discussions, we will delve into the complexities of these issues and discover how we can uphold our Islamic values while living in a changing world.
Listen to the Lectures
The Retreat has concluded, but all of the lectures are available on our YouTube channel! If you missed out on any of the sessions or would like to listen again or share them with friends, check out the playlist!
Speakers
We are honored to host a number of esteemed scholars from across the country to speak alongside our respected scholars from DarusSalam Seminary.
Ustadh Khalid Baig (Open Mind Press, CA)
Mufti Dr. Yasir Nadeem (Institute of Islamic Education, IL)
Shaykh Dr. Mateen Khan (Darul Uloom Central Jersey, NJ)
Shaykh Hamzah Imtiaz (Islamic Foundation of Greater St. Louis, MO)
Shaykh Muneeb Baig (Open Mind Press, CA)
Mawlana Muhammad Abdul Muiz (Darul Uloom Canada)
Mawlana Usman Akhtar (DarusSalam Seminary, IL)
Mawlana Ahsan Syed (DarusSalam Seminary, IL)
Mawlana Farhan Shariff (DarusSalam Seminary, IL)
Mufti Minhajuddin Ahmed (DarusSalam Seminary, IL)
Mufti Azeemuddin Ahmed (DarusSalam Seminary, IL)
Mawlana Yusuf Sulaiman (Masjid Al-Rahman (ISWCCC), CA)
Topics
This year's Retreat will cover an array of topics dealing with the ever-evolving landscape of modern society.
▽ Honoring Sacred Spaces: Embracing the Journey of Learning
▽ From Roots to Wings: Nurturing Our Identity and Celebrating Our Heritage
▽ Islam & Liberalism: Tension Between Tradition and Modernity
▽ Overcoming Obstacles: Strategies for Building Successful Marriages
▽ Manners in Decline: How Social Etiquette is Fading in Today's World
▽ Blurred Lines: Understanding the Changing Dynamics of Gender Interaction
▽ The Subversion of Masculinity: How Modern Feminism is Impacting Men's Roles
▽ Behind the Veil: Embracing the Hijab as a Symbol of Faith and Identity
▽ Silent No More: The Power of Enjoining Good and Forbidding Evil
▽ Highs and Lows: The Harms of Marijuana, Vapes, and Hookah
▽ Rethinking the Generation Gap: Parents, Children and the Healthy Social Order
▽ The Satanic Seduction's Grip on Society: Breaking Free from Obscene Scenes
▽ From Perversion to Pride: A Journey of Sexual Identity and Morality
▽ The Cost of Connection: The Dark Side of Technology and Social Media
▽ The Music Controversy: Let's Get Real
▽ Nurturing Tomorrow: The Role of Parents in Shaping the Future of Their Children (Urdu Talk)
Accommodations
Joining us from out of town? Book your stay with one of our partner hotels for a special discounted rate. Both hotels are located minutes from DarusSalam. Use the links below to reserve your room.
Brothers' I'tikaf
Prefer to stay in the masjid instead of a hotel? Brothers 18 and over are welcome to perform i'tikaf in the masjid for the weekend! Be sure to select this option when registering.
Register now
The Annual Retreat is held at no cost to attendees. Please register today so that we may provide the best accommodations for you.