Make the most of the final days of this blessed month. Don't miss this special opportunity!
This year's i'tikaf will feature Q&A sessions, daily du'as, qur'an recitation, tafsir, salawat, tahajjud, and more.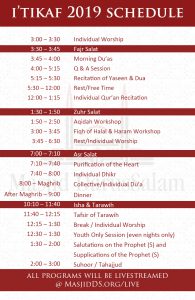 Please note that there will be a mandatory i'tikaf orientation program on Sunday, May 19 after Zuhr (1:30pm).